The Gothic Archies.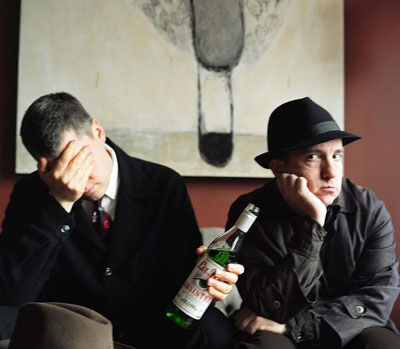 I don't expect most of you to realize the awesomeness that is "The Gothic Archies", but their presence on the "goth-bubblegum pop" scene must be made known. This band wrote fourteen songs for the audiobooks to "A Series of Unfortunate Events." Strange? Yes. Wonderful? Yuss.
No other band can get away with lyrics from "Freakshow" like this: "real people question how/someone took a lobster's face and/put it on a cow" Or perhaps this incredible offering from "the world is a very scary place": "when I was young my study was candies." And "Some people act as if there were nothing wrong, due to the fact they haven't heard this song." Clever self reference! 
Or the brilliant Shakespearian insults of "When you play the violin": "I go gray then bald with chagrin/When you play the violin./How I pray for death to begin/When you play the violin."
Do not squawk at the Gothic Archies. Remember, you heard it here first! Oh, and they have an Accordion player!